What to do with leftovers...
INSTANT POT BRISKET BEANS
As good folks stocking your pantry, you many now have several bags of beans that you are wondering what to do with! Now is the time to get your leftover BBQ and put it to good use…
I am an Instant Pot lover and nothing is better for dried beans because you do not have to pre soak them – just pop them in the pot and they will be ready to go.
To start:
Finely chop your leftover brisket and make sure you toss in all those fatty end pieces. Press the Saute button on instant pot and when hot add in  olive oil, chopped brisket  and onions to caramelize. Once onions are translucent add garlic- if desired. Then add the rest of the ingredients:
2 cups chopped cooked brisket
1 tablespoon of olive oil
1 pound dry pinto beans
½ small white onion chopped
4 cloves garlic minced
1 jalapeño seeds and ribs removed and chopped (optional)
1 teaspoon chili powder
1 teaspoon cumin
¼ teaspoon black pepper
1 tablespoon of brown sugar
1 beer whatever kind you have on hand
3 1/2 cups chicken broth or filtered water
½ teaspoon salt or more to taste added after cooking is over
Be sure to seal the pot and cook 30 minutes on high and give it a 15 minute natural pressure release.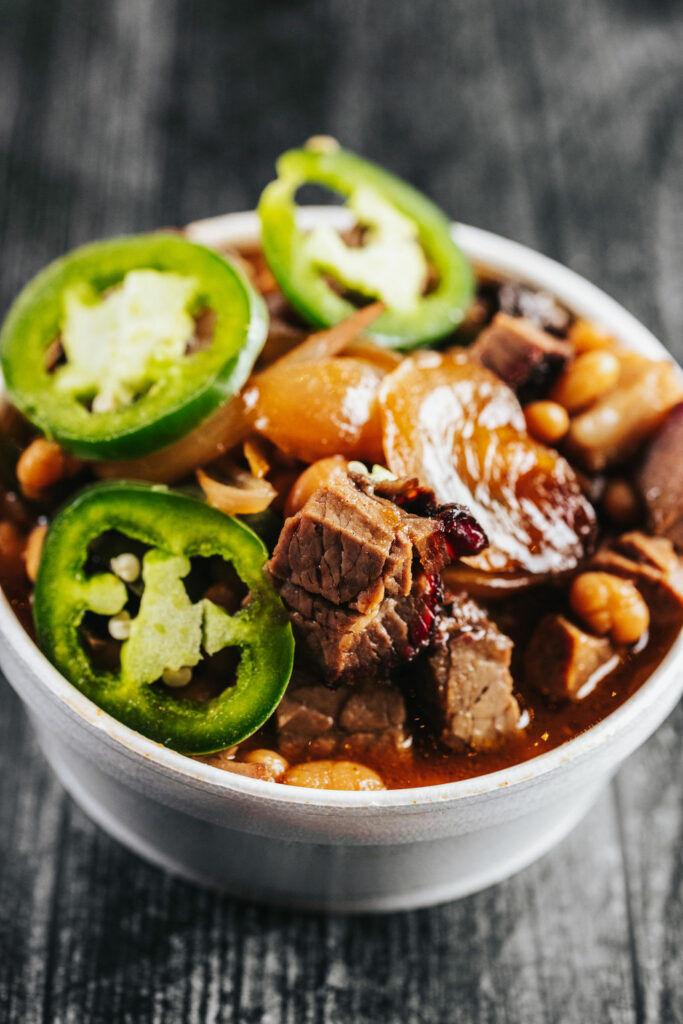 LOCKHART SMOKEHOUSE DEVILED EGGS
INGREDIENTS
6 large eggs (hard boiled and shells removed)

6 tablespoons  mayo
1 ½  teaspoons any kind of mustard
1 teaspoon sriracha or hot sauce of your choice- or however wimpy or adventurous you are

¼

 cup finely chopped smoked brisket, or chicken, or whatever leftover meat you might want to add
2 tablespoons finely chopped red onion or pickles or whatever crunchy veg you might have
Salt to taste
Paprika or Cayenne pepper to taste
DIRECTIONS
Remove yolks from whites after boiling for exactly the right amount of time (or just cheat and buy them from the dairy case at the market) and cream all ingredients together into a smooth consistency.  Then pipe a generous portion into the whites. A quick dusting of smoked paprika (and occasionally cayenne) on top and they are done.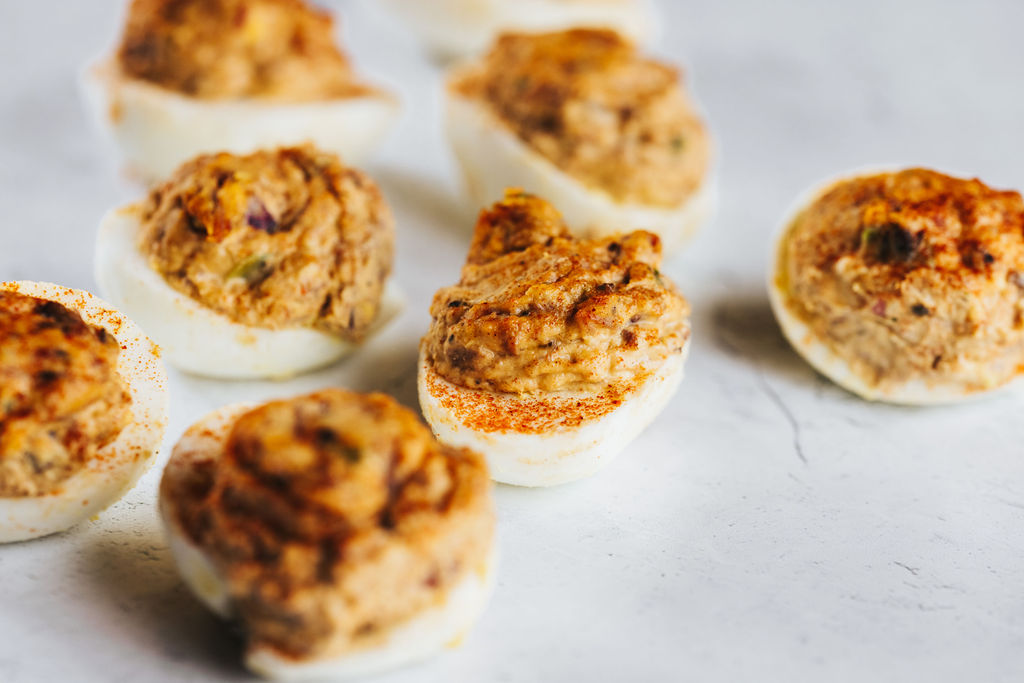 LOCKHART SMOKEHOUSE BURNT END CHILI
INGREDIENTS
3 cups of Lockhart Smokehouse Burnt Ends
1 tablespoon of olive oil
½ cup white onion; diced
1 tablespoon minced garlic (3 cloves)
¼ cup diced jalapeño; remove seeds and rib
1/3 cup of chili powder
1 teaspoon cumin
¼ teaspoon ground black pepper
2 tablespoons tomato paste
2 cups of Shiner Bock or whatever beer on hand
½ can of 14oz. diced tomatoes
2 cups beef broth
½ teaspoon salt
DIRECTIONS
Add olive oil in a hot pot, add onions, garlic, & jalapeño until lightly browned. Add burnt ends and let that fat render for a minute or two.  Add spices and stir. Then add tomato paste and liquids. Let simmer for at least 30 minutes or longer, depending on your time frame.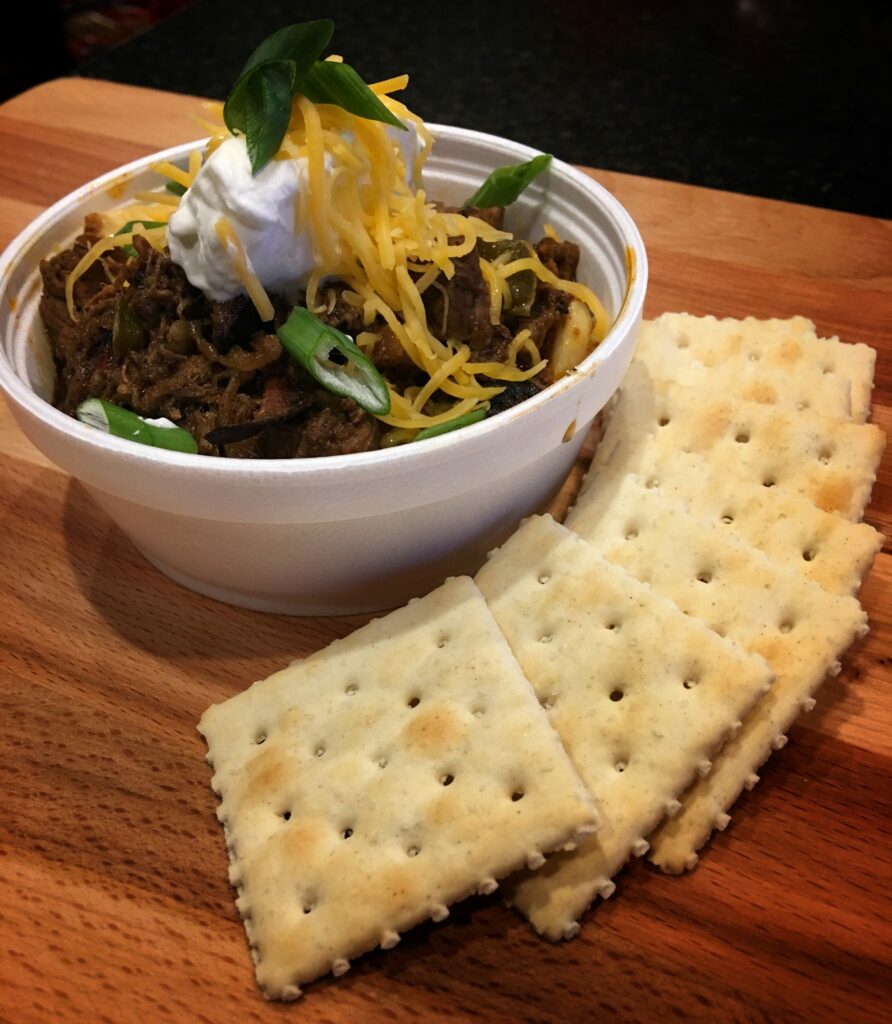 LOCKHART SMOKEHOUSE BLUE CHEESE SLAW
INGREDIENTS
Purple and green cabbage head, sliced (or buy the bag)
1 teaspoon of mustard powder
2 cups of mayo
2 tablespoons white sugar
1 tablespoon apple cider vinegar
Salt and pepper, to taste
Diced jalapeño, no seeds, to taste
Blue cheese crumbles, to taste
DIRECTIONS
Pour cabbage in a bowl, either chopped, bagged or both. 

In a separate medium bowl, whisk together the mayonnaise, mustard powder, sugar, vinegar, salt and pepper. 

Pour mayonnaise dressing over the chopped vegetables and toss to moisten well. 

Add jalapeños and crumbled blue cheese and toss with vegetables. 

Cover the bowl with plastic wrap and refrigerate for an hour or more to allow the flavors to meld. 

Serve cold or at room temperature.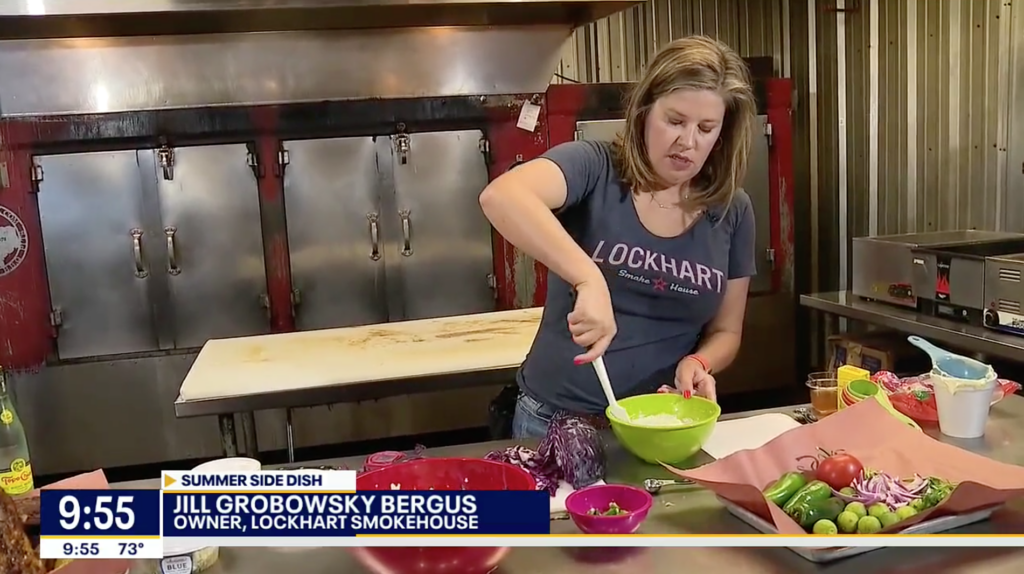 LOCKHART SMOKEHOUSE SMOKED CHICKEN
INGREDIENTS
1 bone-in, skin on whole chicken (3 ½ lbs.) / giblets, etc. removed
½ cup Kosher salt
2 tablespoons brown sugar
2 tablespoons cracked pepper
Dash of paprika, garlic powder and cumin
DIRECTIONS
Create your rub, setting aside half for use later. Generously rub chicken skin all over and refrigerate overnight. 
Next day, wipe rub off rub and reapply with rub set aside. 
The birds are then put in the smoker, breast side up. They smoke over post oak for 5 to 6 hours, until they reach a temp of 165°F/ 75°C.
Keeping the skin intact and cooking it on the bone are what keep the bird moist.  If you need to check the temp, stick it from the inside as to not to break the skin.  You should know that it is done when the leg can easily be separated from the body with a little tug.
As with any meat, especially those with a bone in them, you need to let it rest.  Once removed from the smoker allow it to sit at room temperature for at least 10 minutes to allow the juices to flow throughout.